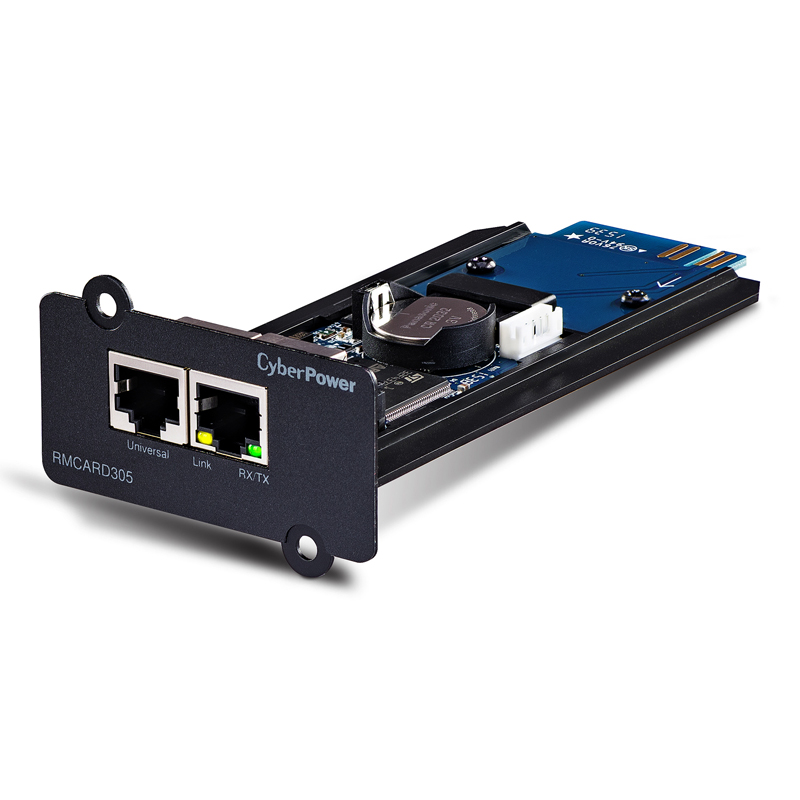 CyberPower RMCARD305TAA UPS & ATS PDU Remote Management Card
Use coupon
techie
for a
5%
discount
Model:
RMCARD305TAA
Condition:
New
Availability:
Backorder
The CyberPower RMCARD305 TAA is a full-featured network UPS management device that remotely manages, monitors, and controls CyberPower UPS systems and ATS PDU products. It complies with the U.S. Trade Agreement Act (TAA).
The internal card allows remote monitoring and control of a UPS via web browser, command line interface (CLI), SNMP or network management system (NMS). PowerPanel Business Edition Client software protects servers and workstations from data loss due to power failure by initiating auto-shutdown command from a UPS when a power loss event occurs. An optional environmental sensor (ENVIROSENSOR) can be connected to the RMCARD205 to monitor the ambient temperature and humidity of a server room, IT closet, or other critical environments.
The firmware can be updated via FTP or SCP by users to insure you have the latest features and updates.
A Three-Year Warranty ensures that this network management card has passed our highest quality standards in design, assembly, material and workmanship.
FEATURES
Real time UPS monitoring
Supports environment sensor
Remote management via web browser (HTTP/HTTPS), CLI(Telnet/SSH), or NMS (SNMPv1/v3)
Automatic events notification via email, SMS, SNMP traps, and Syslog
View and save Event Logs and Status Records
Supports RADIUS, LDAP, LDAPS,and Windows Active Directory external authentication protocols
User upgradeable firmware via FTP or SCP
Update firmware and configuration file on multiple cards simultaneously using Upgrade and Configuration Utility
Compatible with select Smart AppUPS and ATS PDUs*