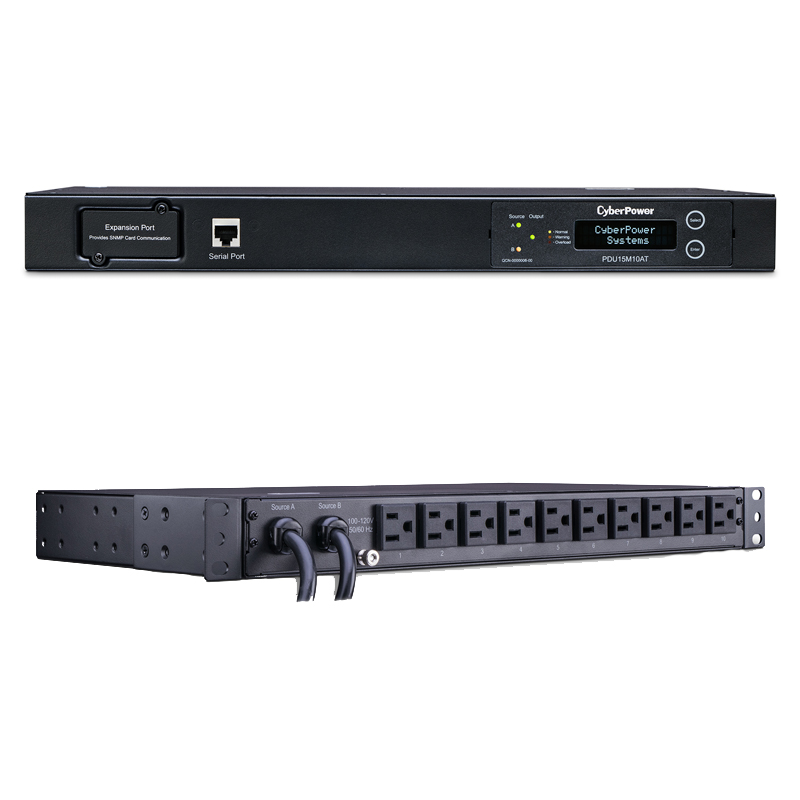 CyberPower PDU15M10AT 10-Outlets 1U Rackmount
Use coupon
techie
for a
5%
discount
Model:
PDU15M10AT
Condition:
New
Availability:
Out Of Stock
The CyberPower PDU15M10AT, a 10-outlet 1U rack mount metered auto transfer switch (ATS) power distribution unit (PDU), provides 100-120V / 15A output. Dual power cords can be plugged into separate power sources to provide redundancy to single-corded connected equipment. If power for the primary source exceeds the lower or upper thresholds, or if power fails, the PDU will switch to the secondary power source to ensure continuous operation.
The LCD provides local monitoring of the PDU. Perform load management by using the display to measure the electrical current used by connected equipment.
The PDU15M10AT includes a SNMP/HTTP card slot for adding an optional RMCARD allowing users to have real-time monitoring of the ATS PDU.
A Three-Year Warranty ensures that this PDU is free of defects in design, assembly, material and workmanship.
Typical Applications
Servers
Network Devices
Telecom Equipment
FEATURES
Metered Auto Transfer Switch PDU
Digital Real-Time Display
SNMP/HTTP Card Slot
Network-Grade Plugs
Durable Metal Housing
Three-Year Warranty
Certifications
Environmental
RoHS Compliant
Safety
UL 60950-1.FCC Class A.RoHS
Communication
Connectivity
Serial (RJ45)
SNMP / HTTP Remote Monitoring
Optional RMCARD205
Environmental
Maximum Operating Elevation
13,100 ft (4,000 m)
Maximum Storage Elevation
50,000 ft (15,000 m)
Operating Humidity
0
Operating Temperature
32
Storage Temperature
5
Thermal Dissipation
14 BTU/hr
Input
Cord Length
10 ft
Frequency
50/60 Hz
Maximum Current
15A (derated to 12A)
Nominal Input Voltage
100
Plug Style
Right Angle
Plug Type
2
Output
LCD Readout
KW,Voltage,Amperage,Network Information,HW/FW Version
LED Indicators
Input.Output Load
Nominal Output Voltage
100
Outlet Banks
1
Outlet Type
NEMA 5-15R
Physical
Adjustable Mounting Brackets
1 set (L-long)
Cord Retention Tray/Cord Organizers
Yes
External Site Ground Pin
Yes
Form Factors Supported
1U rackmount
Rack Size
1U
Style
Rackmount
Weight (lbs)
10.58 lbs
Warranty
Product Warranty
3 Years