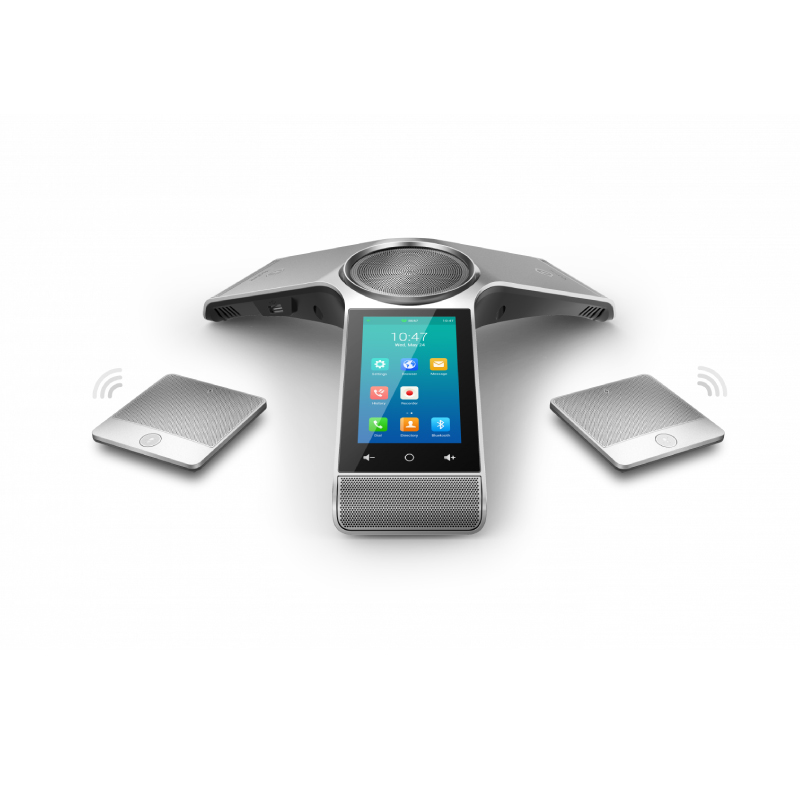 Yealink CP960 IP Conference Wireless Phone
Model:
CP960-WirelessMic
Condition:
New
Availability:
In Stock
Download PDF datasheet for detailed product information
It is time to optimize your conference room with Yealink latest conference phone - the Yealink Optima HD IP Conference Phone CP960, comprising the power of the Android 5.1 operating system. With user-centric design philosophy, this Y-shape brand new release from Yealink combines simplicity of use with sophistication of features, being perfect for any team environment, especially for medium to large conference room. In regard of its crystal-clear audio quality, your conversation will sound natural and bright anywhere with well-designed CP960, and beyond that, you can connect an external loudspeaker to it if necessary. The Yealink CP960 provides wireless and wired pairing with your mobile staff -smartphone or PC/tablet via Bluetooth and USB Micro-B port; As a valuable complement for your conference room, Yealink concentrates on users themselves, giving you a easily and clearly engaging business conference experience.
Optimal HD audio, full duplex technology
20-foot (6-meter) and 360-degree microphone pickup range
Two additional CP Wireless Expansion Mic CPW90
Built-in 3-microphone array
5-inch multi-touch screen with 720x1280 resolution
Yealink Pentagon Meeting Room
5-way conference call
Connect to PC via USB Micro-B port
Hybrid UC meeting
Download PDF datasheet for detailed product information
Audio Features
Audio
G722, G722.1C, G726, G729, G723, iLBC, OpuG722, G722.1C, G726, G729, G723, iLBC, Opus
Details
Edition
Standard
Manufacturer
Yealink
Model
CP960 (Wireless Mic)
Type
Conference Unit
Directory
Phonebook Storage
Up to 1000 Contacts
Interface
Ethernet Port 10/100M (RJ45)
1
Headset Port (RJ9)
3
PoE
Yes
USB 2.0 Port
2 (1 USB 2.0 Micro-B Port)
Wired MIC Port
2
Network and Security
IP Assignment
static/DHCP
SIP
SIP v1 (RFC2543), v2 (RFC3261)
Phone Features
Bluetooth
Yes (Built-In)
EHS Port (RJ12)
N/A
EXT Port (RJ12)
N/A
Stand-by Time
N/A
Talk Time
N/A
VoIP Accounts
1
WIFI
Yes (Built-In)