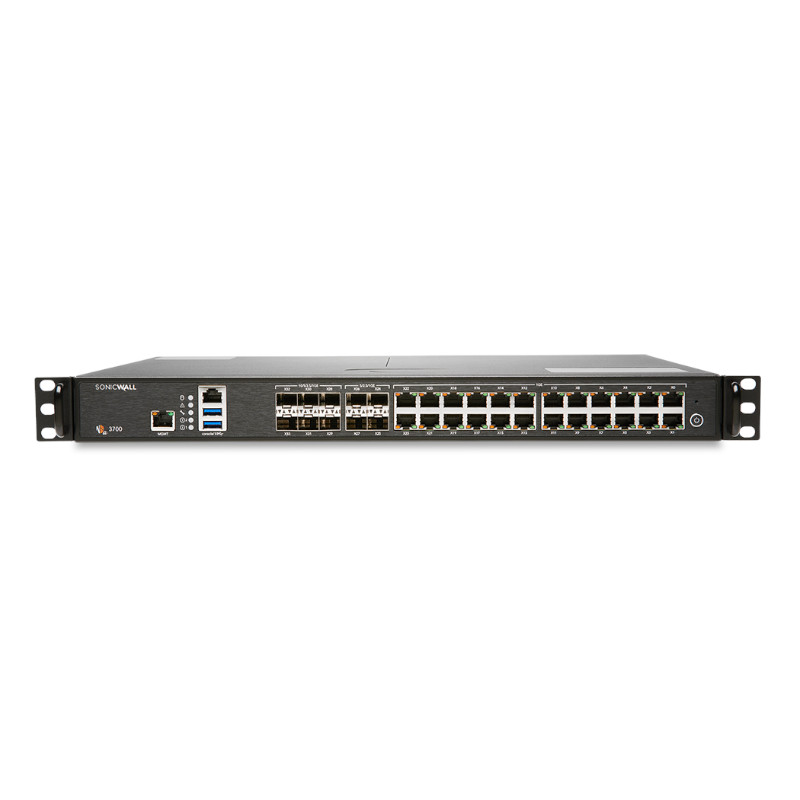 SonicWall NSa 3700 Secure Upgrade Plus (AGSS) Essential Edition (2 Years)
Model:
02-SSC-8206
Condition:
New
Availability:
In Stock
NSA Datasheet
Protection Services Datasheet
The SonicWall Network Security Appliance (NSa)3700 next-generation firewall (NGFWs) offers medium- to large-sized enterprises industry-leading performance at the lowest total cost of ownership in its class.
The NSa 3700 has been built from the ground up with the latest hardware components, all designed to deliver multi-gigabit threat prevention throughput-even for encrypted traffic. Featuring a high port density (including 24 x 1GbE ports, 6 x 10 GbE ports and 4 x 5 GbE ports), the solution supports network and hardware redundancy with high availability, clustering and dual power supplies.
The NSa 3700 supports advanced networking features, such as SD-WAN, dynamic routing, layer 4-7 clustering and high-speed VPN functionality. In addition to integrating firewall and switch capabilities, the appliance provides a single-pane of-glass interface to manage both switches and access points.


HIGHLIGHTS
1 RU - Form Factor
Support for 40G/25G/10G/5G/2.5G/1G ports
Multi-gigabit Threat and Malware Analysis Throughput
Superior TLS performance (sessions and throughput)
Expandable storage
Enterprise Internet Edge Ready
Latest Generation 7 SonicOS support
Secure SD-WAN capability
Intuitive user interface with central management
TLS 1.3 support
Best-in-class price-performance
Powered by SonicWall Capture Labs threat research team
High port density for easy networking
SonicWall Switch, SonicWave Access Point and Capture Client integration
Redundant power