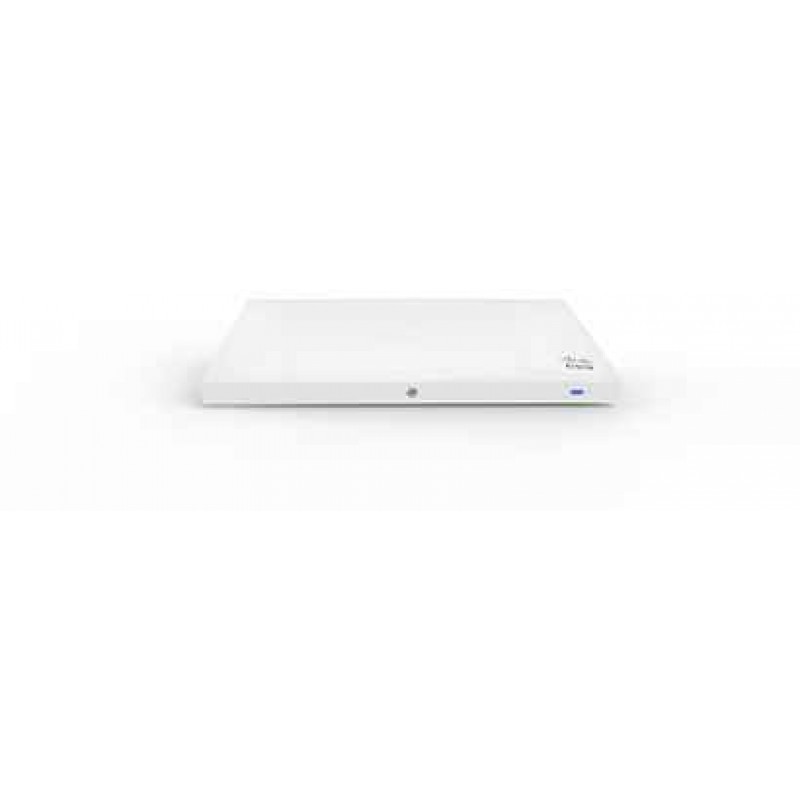 Meraki MR33 Cloud Managed AP
Use coupon
getmeraki
for a
10%
discount on Meraki orders of $10,000 or more
Model:
MR33-HW
Condition:
New
Availability:
Backorder
The Cisco Meraki MR33 is a quad-radio, cloud-managed 2x2:2 802.11ac Wave 2 access point with MU-MIMO support. Designed for next-generation deployments in offices, schools, hospitals, shops, and hotels, the MR33 provides performance, enterprise-grade security, and simple management.
The MR33 provides a maximum 1.3 Gbps aggregate frame rate with concurrent 2.4 GHz and 5 GHz radios. A dedicated third radio provides real-time WIDS/WIPS with automated RF optimization. An integrated Bluetooth Low Energy (BLE) radio delivers beacon and scanning capabilities.
The combination of cloud management, 802.11ac Wave 2, full-time RF environment scanning, and integrated Bluetooth technology delivers the throughput, reliability, and flexibility required by demanding business applications like voice and high-definition streaming video, today and tomorrow.
802.11ac Wave 2 and 802.11n Capabilities
802.11ac Wave 2 And 802.11n Capabilities
2 x 2 multiple input, multiple output (MIMO) with two spatial streams, SU-MIMO and MU-MIMO support, Maximal ratio combining (MRC) & Beamforming, 20 and 40 MHz channels (802.11n), 20, 40, and 80 MHz channels (802.11ac), Up to 256 QAM on both 2.4 GHz and 5 GHz bands, Packet aggregation
Antenna
Antenna
Integrated omni-directional antennas (3.7 dBi gain at 2.4 GHz, 4.8 dBi gain at 5 GHz)
Environment
Operating Temperature
32 °F to 104 °F (0 °C to 40 °C), Humidity- 5 to 95% non-condensing
Interfaces
Interfaces
1x 10/100/1000 BASE-T Ethernet (RJ45) input, 1x Gigabet Ethernet (RJ45) with 802.3af Power over Ethernet output, 3x Gigabit Ethernet (RJ45) outputs
LED indicators
LED Indicators
4x 2 Ethernet status for Ethernet ports, 1 power/booting/firmware upgrade status
Mobility
Mobility
PMK, OKC, and 802.11r for fast Layer 2 roaming, Distributed or centralized layer 3 roaming
Mounting
Mounting
Mounting hardware included for US, UK, EU, AU & Asia single gang wall jacks
Physical Dimensions
Physical Dimensions
6.1" x 4.3" x 0.9" (155 mm x 110 mm x 23 mm), not including mount foot or mount plate, Weight
Physical Security
Physical Security
Two security screw options (included), Concealed mount plate
Power
Power
Power over Ethernet
Quality of Service
Quality Of Service
Advanced Power Save (U-APSD), WMM Access Categories with DSCP and 802.1p support, Layer 7 application traffic identification and shaping
Radios
Radios
2.4 GHz 802.11b/g/n/ac client access radio, 5 GHz 802.11a/n/ac client access radio, 2.4 GHz & 5 GHz WIDS/WIPS, spectrum analysis, and location analytics radio, 2.4 GHz Bluetooth Low Energy (BLE) radio with beacon and BLE scanning support, Concurrent operations of all four radios, Supported frequency bands (country-specific restrictions apply)<li>2.412-2.484 GHz<li>5.150-5.250 GHz (UNII-1)<li>5.250-5.350 GHZ (UNII-2)<li>5.470-5.600, 5.660-5.725 GHz (UNII-2e)<li>5.725 -5.825 GHz (UNII-3)</ul>
Security
Security
Integrated layer 7 firewall with mobile device policy management, Real-time WIDS/WIPS with alerting and automatic rogue AP containment with Air Marshal, Flexible guest access with device isolation, VLAN tagging (802.1Q) and tunneling with IPSec VPN, PCI compliance reporting, WEP, WPA, WPA2-PSK, WPA2-Enterprise with 802.1X, EAP-TLS, EAP-TTLS, EAP-MSCHAPv2, EAP-SIM, TKIP and AES encryption, Enterprise Mobility Management (EMM) & Mobile Device Management (MDM) integration
Warranty
Warranty
Lifetime hardware warranty with advanced replacement included