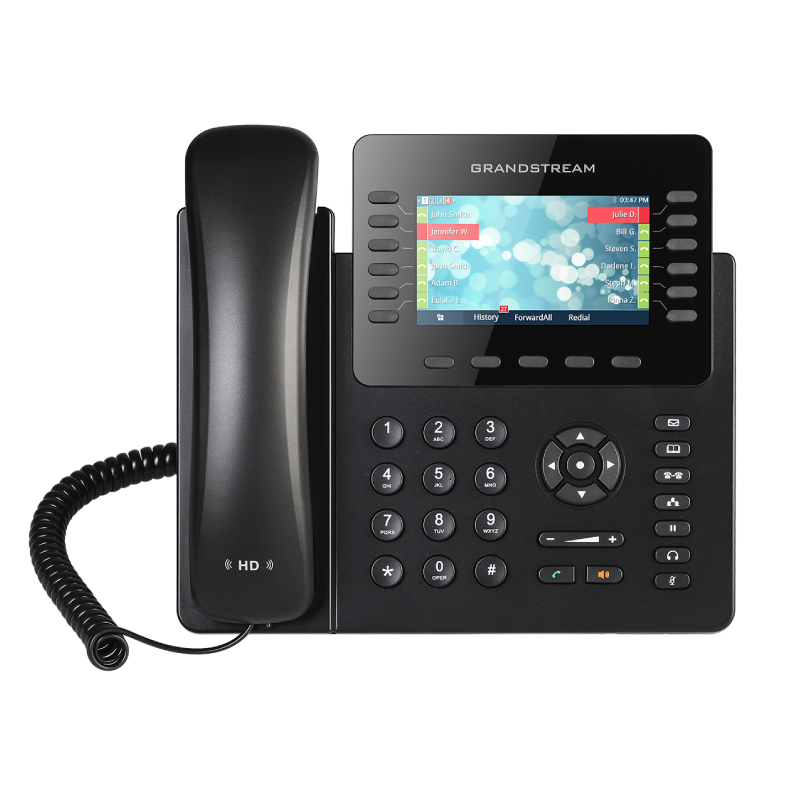 Grandstream GXP2170 Enterprise IP Phone
Model:
GXP2170
Condition:
New
Availability:
In Stock
Download PDF datasheet for detailed product information
The GXP2170 will keep your conversations as clear and flowing as if you were communicating face-to-face due to the fastest possible connection speeds with dual Gigabit network ports. This top of the line desk phone also features Power over Ethernet (PoE) and includes built-in Bluetooth for easy pairing with mobile devices and Bluetooth headsets. To help keep your contacts easily accessible, the GXP2170 features 48 digital programmable BLF/fast dial keys and has the ability to connect with up to four cascaded GXP2200 EXT Modules for a maximum access of up to 160 speed dial/BLF contacts.
TLS and SRTP security encryption technology to protect calls and accounts
Built-in USB port for importing and exporting data
Automated provisioning options include TR-069 and XML config files
Supports EHS compatible Plantronics's headsets
5-way audio conferencing for easy conference calls
12 dual-color line keys
Dual switched auto-sensing 10/100/1000Mbps Gigabit network ports
Built-in Bluetooth
HD audio
Protocols/Standards SIP RFC3261, TCP/IP/UDP, RTP/RTCP, HTTP/HTTPS, ARP, ICMP, DNS(A record, SRV, NAPTR), DHCP, PPPoE, TELNET, TFTP, NTP, STUN, SIMPLE, LLDP, LDAP, TR- 069, 802.1x, TLS, SRTP, IPV6
Network Interfaces Dual switched auto-sensing 10/100/1000 Mbps Gigabit Ethernet ports with integrated PoE
integrated Power-over-Ethernet(802.3af), Universal power adapter included: Input:100-240V ; Output: +12V, 1.0A