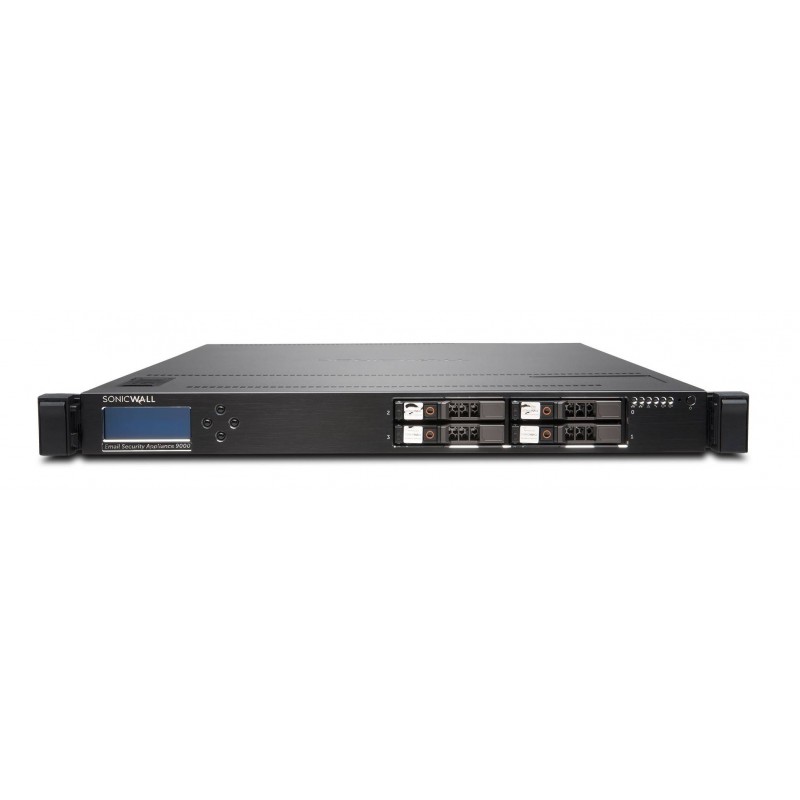 Email Security 9000 Appliance
Model:
01-SSC-7605
Condition:
New
Availability:
In Stock
Securely routes email that matches a specific policy to an integrated, seamless cloud encryption server to ensure the secure exchange of email containing sensitive customer data or confidential information.
The SonicWall Email Encryption services provide integrated, policyenforced and on-demand email encryption. With this service, policies may be configured to scan outbound email content and attachments for sensitive data and, if found, securely route sensitive email for encryption and secure exchange with customers and partners.
Encrypted email can be tRacked to confirm the time of receipt and time opened. A notification email is then delivered to the recipients inbox with easy-to-follow instructions to log on to a secure portal to read or securely download the email. The service is cloudbased; no additional client software is required. Unlike competitive solutions, SonicWall subscription services allow encrypted email to be accessed and read from mobile devices and laptops.
Download PDF datasheet for detailed product information
Details
Manufacturer
SonicWall
Wireless
No
Email Security Appliance
BTUs
537
CPU(s)
E3-1275 v3
Dimensions
27.5 x 19.0 x 3.5 in 69.9 x 48.3 x 8.9 cm
Domains
Unrestricted
Hard Drive
160 GB minimum configuration
Hot Swappable Drives
Yes
MTBF @25C In Hours
90592
MTBF @25C In Years
10.3
Operating System
Hardened SonicWall Linux OS appliance
Power Consumption (WATTS)
158
Rackmount Chassis
1RU
RAM
8 GB minimum configuration
Redundant Disk Array (RAID)
RAID 5
Redundant Power Supply
Yes
SAFE Mode Flash
Yes
WEEE Weight
48.9 lbs/ 22.2 kg
Weight
50.0 lbs/ 22.7 kg
Email Security Software
Allocated Memory
4 GB
Appliance Disk Size
160 GB (expandable)
CPU
Intel or AMD 64-bit processor
Hypervisor
ESXi and ESX (version 5.0 and newer)
Operating System
Microsoft Hyper-V Server 2012 (64-bit) or higher Windows Server 2008 R2 or higher x64 bit only
Operating System Installed
8 GB (expandable)