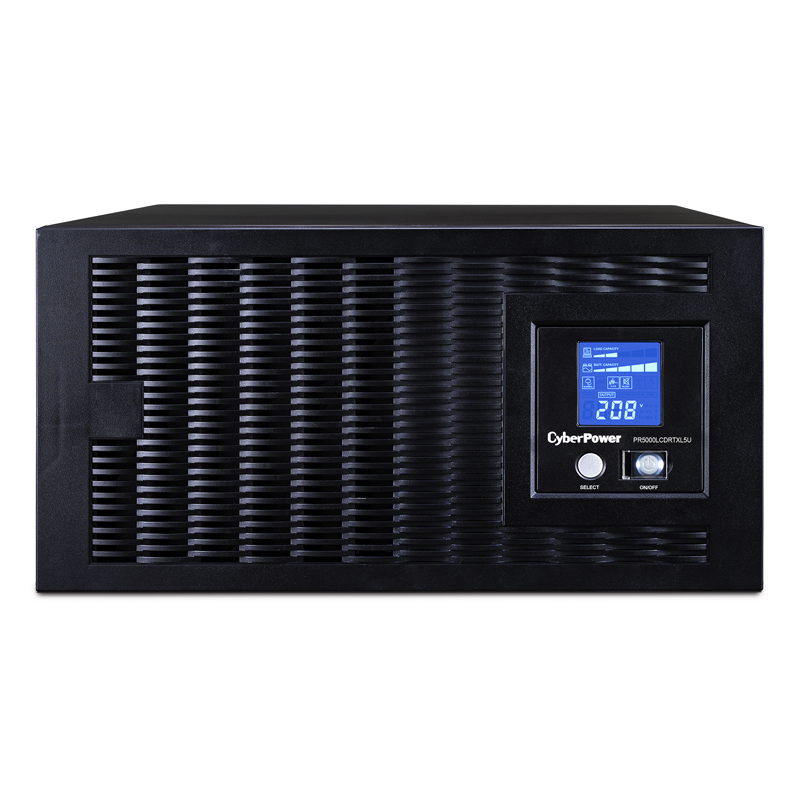 CyberPower PR5000LCDRTXL5U Smart App Sinewave Series UPS System
Use coupon
power
for a
10%
discount
Model:
PR5000LCDRTXL5U
Condition:
New
Availability:
In Stock
The CyberPower Smart App Sinewave PR5000LCDRTXL5U uninterruptible power supply (UPS) with LCD panel and sine wave output is Active PFC compatible for safeguarding mission-critical servers, telecom equipment, and VoIP and internetworking hardware that require seamless pure sinewave power.
This UPS unit incorporates microprocessor-based digital control and includes PowerPanel Business Edition Software providing the user unsurpassed flexibility and control.
This UPS system is ENERGY STAR qualified with patented GreenPower UPS Bypass circuitry to save on energy costs by reducing energy consumption and heat buildup.
A Three-Year Warranty ensures that this UPS has passed our highest quality standards in design, assembly, material or workmanship and further protection is offered by a $300,000 Connected Equipment Guarantee.
TYPICAL APPLICATIONS
Servers
Workstations
Network Devices
Telecom Equipment
FEATURES
5000VA/4500W
Line Interactive Topology
Full AVR Buck/Boost
GreenPower UPS
5U Rack Mount/Tower Convertible
Multifunction Rotatable LCD
SNMP/HTTP Remote Management
5 Outlets/USB, Serial, and EPO Ports
EMI/RFI Filters
PowerPanel Business Software
Three-Year Warranty
UPS Models
Product Warranty
18 Month Limited
Warranty
RB1290X16