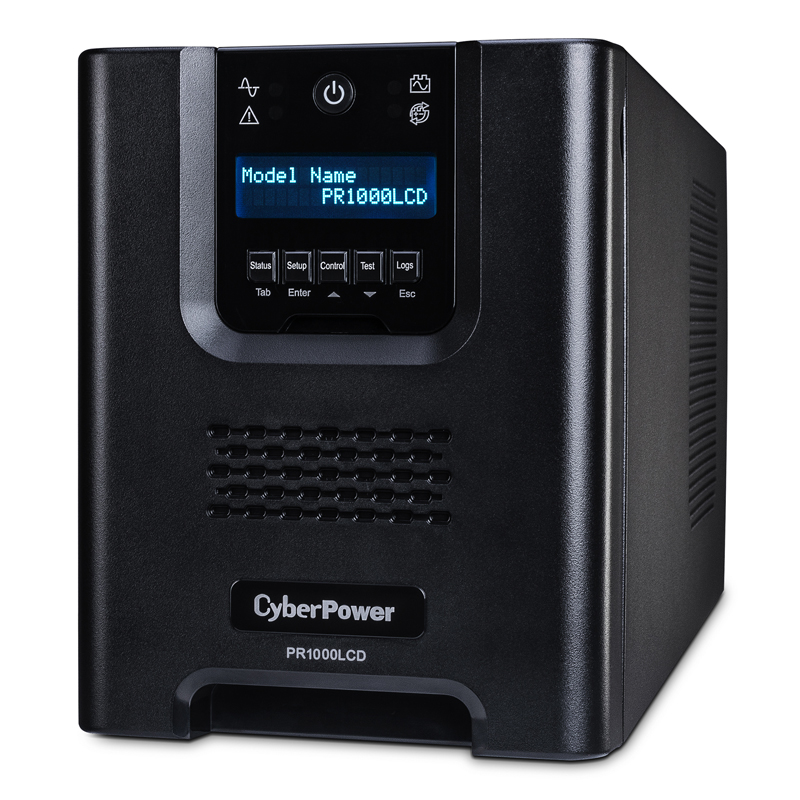 CyberPower PR1000LCD Smart App Sinewave Tower Series UPS System
Use coupon
10%-off-coupon
for a
10%
discount
Model:
PR1000LCD
Condition:
New
Availability:
In Stock
Download PDF datasheet for detailed product information
The CyberPower Smart App Sinewave PR1000LCD mini-tower uninterruptible power supply (UPS) with LCD control panel and sine wave output is Active PFC compatible for safeguarding mission-critical servers, telecom equipment, VoIP and internetworking hardware that require seamless pure sine wave power.
The PR1000LCD uses Automatic Voltage Regulation (AVR) to correct minor power fluctuations without switching to battery power, which extends battery life. AVR is essential in areas where power fluctuations occur frequently.
A Three-Year Warranty ensures that this UPS has passed our highest quality standards in design, assembly, material or workmanship and further protection is offered by a $375,000 Connected Equipment Guarantee.
TYPICAL APPLICATIONS
Workstations
Telecom Appliances/VoIP
High-End Audio/Video
FEATURES
1000VA / 700W
Line Interactive Topology
Active PFC Compatible
Extendable LCD Control Panel
SNMP/HTTP Remote Management
Full-time Surge Protection and Battery Backup
Mini-Tower Form Factor
8 Outlets / USB / Serial / EPO Port
PowerPanel Business Edition
3-Year Warranty