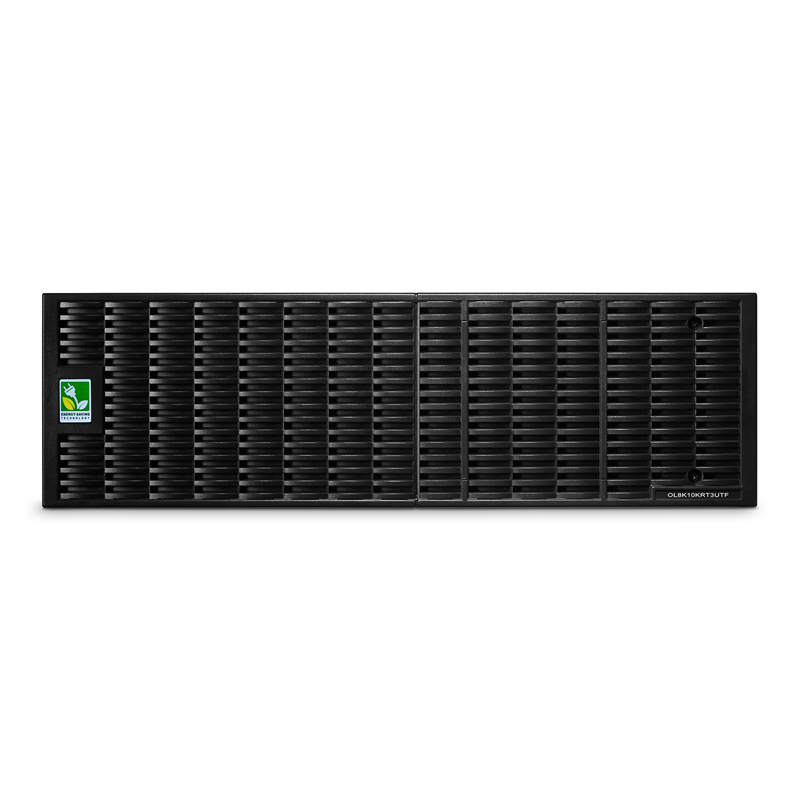 CyberPower OL8K10KRT3UTF Smart App Online Series UPS System
Use coupon
techie
for a
5%
discount
Model:
OL8K10KRT3UTF
Condition:
New
Availability:
In Stock
The CyberPower Smart App Online OL8K10KRT3UTF rack/tower step-down isolation transformer converts 208V input voltage originating from utility power, a UPS, or a generator to 120V output.
A 10-foot, NEMA L6-30P power cord connects the OL8K10KRT3UTF to input power. Over temperature protection safeguards your OL8K10KRT3UTF from damage if the internal heat exceeds safe operating parameters.
A Three-Year Warranty ensures that this extended battery module has passed our highest quality standards in design, assembly, material or workmanship.
UPS Compatibility
Smart App Sinewave*
Smart App Online*
Features
5000W
Converts 208V from Utility Power, UPS and Generator to 120V Output
120V 50/60Hz Output
Over Temperature Protection
Rack/Tower Form Factor
3-Year Limited Warrant
Certifications
Environmental
RoHS Compliant
Safety
UL, cUL, CE
Environmental
Audible Noise At 1.5M From Surface Of Unit
55 dBA
Compatibility
OL8K10KRT3UTF
Online Thermal Dissipation
898 BTU/hr
Operating Elevation
0-10000 feet (0-3000 meters)
Operating Humidity
0%
Operating Temperature
32
Storage Elevation
0-50000 feet (0-15000 meters)
Storage Relative Humidity
0%
Storage Temperature
-4
UPS Models
OL3000RTXL2UHV,OL6000RT3U,OL6000RT3UPDU,OL6KRT3UHW,OL8000RT3U,OL8000RT3UPDU,OL8KRT3UHW,OL10000RT3U,OL10000RT3UPDU,OL10KRT3UHW,PR5000LCDRTXL5U,PR6000LCDRTXL5U
General
Over Temperature Protection
Yes
Type
Step-Down Transformer
Input
Cord Length
10 ft
Input Amperage
30A (Derated 24A)
Input Frequency Range
50/60Hz
Input Voltage Range
200Vac
Nominal Input Voltage
208Vac
Plug Type
NEMA L6-30P
Output
Frequency
50/60Hz
Nominal Output Voltage
120Vac and 208Vac
Outlet Type
(12) NEMA 5-20R.(2) NEMA L6-20R.(2) NEMA L6-30R
Overload Protection
Output Circuit Breakers
VA
5,000 (5.0 kVA)
Watts
5,000 (5.0 kW)
Physical
Dimensions (WxHxD) (in.)
17 x 5.25 x 26
Dimensions (WxHxD) (mm.)
433 x 132 x 660
Enclosure Contruction
Steel
Form Factor
Rack/Tower
Installed Rack Height
3U
Mounting Hardware
Included
Shipping Dimensions (WxHxD) (in.)
23.6 x 14.9 x 35.4
Shipping Dimensions (WxHxD) (mm.)
600 x 378 x 900
Shipping Weight (kg.)
89
Shipping Weight (lbs.)
195.8
Weight (kg.)
72.6
Weight (lbs.)
159.7
Warranty
Product Warranty
3 Years Limited