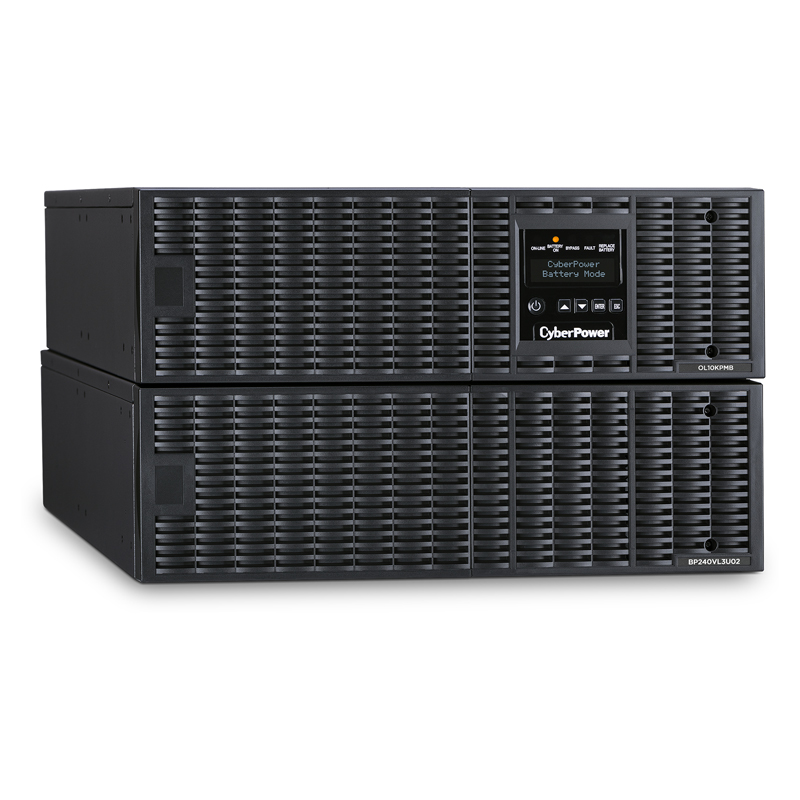 CyberPower OL10KRTHW Smart App Online Series UPS System
Use coupon
techie
for a
5%
discount
Model:
OL10KRTHW
Condition:
New
Availability:
In Stock
The CyberPower Smart App Online OL10KRTHW is a 6U rack/tower UPS featuring double-conversion topology for seamless power protection, an intuitive maintenance bypass switch design, and a pre-installed RMCARD205. Ensure maximum efficiency and capacity output with a Power Factor rating (PF) of 1. The energy-saving GreenPower UPS ECO Mode enables up to 97% efficiency while reducing power consumption and thermal dissipation. Smart battery management charging technology increases battery life up to 50% and replenishes battery charge from 0-90% in five hours.
The OL10KRTHW enhanced LCD control panel functionality provides the ability to change the IP address, view UPS load energy consumptions, and select UPS diagnostic tests.
Variable 4-speed fans provide automatic thermal management, based on power load, to reduce noise. A tamper-proof input circuit breaker ensures power is not turned off unexpectedly during service or maintenance. The OL10KRTHW simplifies installation with a quick start guide, user-friendly lifting straps, and an enhanced hanging rack mount rail system.
The optional BP240VL3U01 Extended Battery Module expands runtime and speeds restoration of full backup power. The OL10KRTHW comes with a three-year warranty (including batteries) and a $300,000 Connected Equipment Guarantee.
TYPICAL APPLICATIONS
Server Rooms
Server Virtualization Infrastructures (VMware, Hyper-V, Citrix)
Hyperconverged Infrastructure (HCI)
Core Network Equipment
Storage Systems
VoIP Infrastructure
FEATURES
10,000 V/ 10,000 W
Double Conversion Topology
Sine Wave Output, Zero Transfer Time
Output: 200-240 V UPS
GreenPower UPS ECO Power Mode
Removable LCD Panel
Generator Compatibility Mode