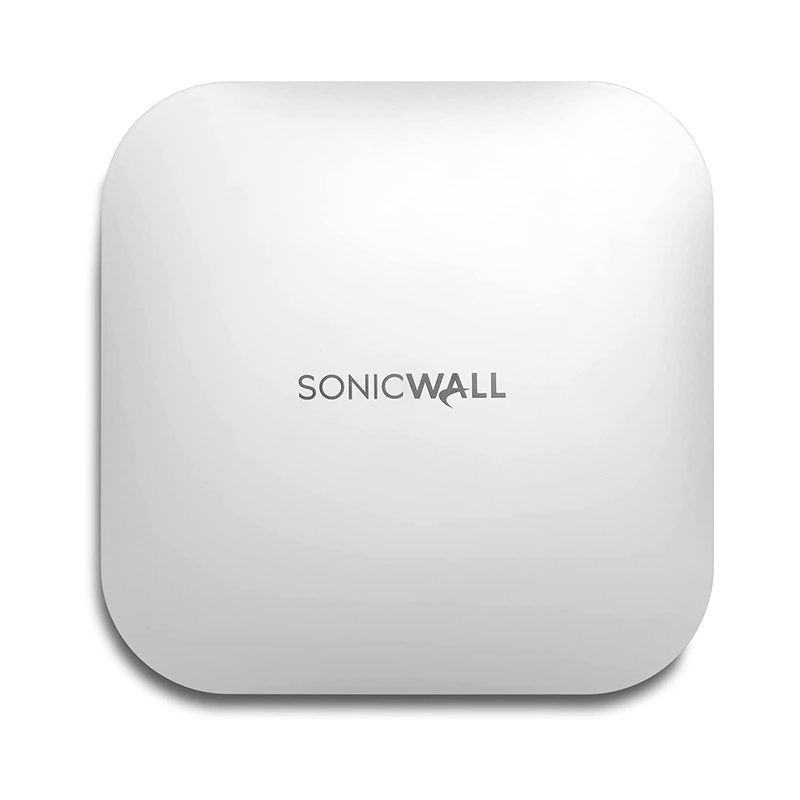 SONICWAVE 641 WIRELESS ACCESS POINT WITH SECURE WIRELESS NETWORK MANAGEMENT AND SUPPORT 3YR (NO POE)
Model:
03-SSC-0303
Condition:
New
Availability:
In Stock
Sonicwave Datasheet
WNM Datasheet
SonicWalls 600 Series Wireless Access Points (APs) use 802.11ax - the most advanced technology available - for superior performance in complex, multi-device environments. Cloud-managed using SonicWalls Wireless Network Manager (WNM), these APs offer a number of additional features that provide an enhanced experience, all while delivering the best-in-class security that you expect from SonicWall.
Intuitive cloud management and monitoring tool
SonicWave APs are easy to set up and deploy. They integrate with SonicWall Wireless Network Manager, which is a highly intuitive, scalable and centralized Wi-Fi network management system capable of delivering rich wireless and switching analytics, as well as simplified, single-pane-of glass onboarding via the cloud. The APs also integrate with WiFi Planner, a site survey tool that enables you to optimally design and deploy a wireless network, resulting in a reduced total cost of ownership. And with RF spectrum analysis, you can detect and identify the source of RF interference and monitor the health of a wireless system.
HIGHLIGHTS


Performance
802.11ax
Increased throughput
Reduced latency
Better power management

User experience
Longer battery life
Neighboring network avoidance
Target Wake Time (TWT)

Best-in-class wireless security
WIDS for threat detection
WIPS for active threat remediation
Rogue AP and device detection

Intuitive cloud management and monitoring tool
Integrated Switch management
Alerts and rich analytics
Automatic firmware updates
Integrates with Wireless Network Manager and WiFi Planner
RF spectrum analysis

Zero-Touch Deployment
Fast and easy deployment
Auto-detection and auto-provisioning
Compatible with SonicExpress mobile app