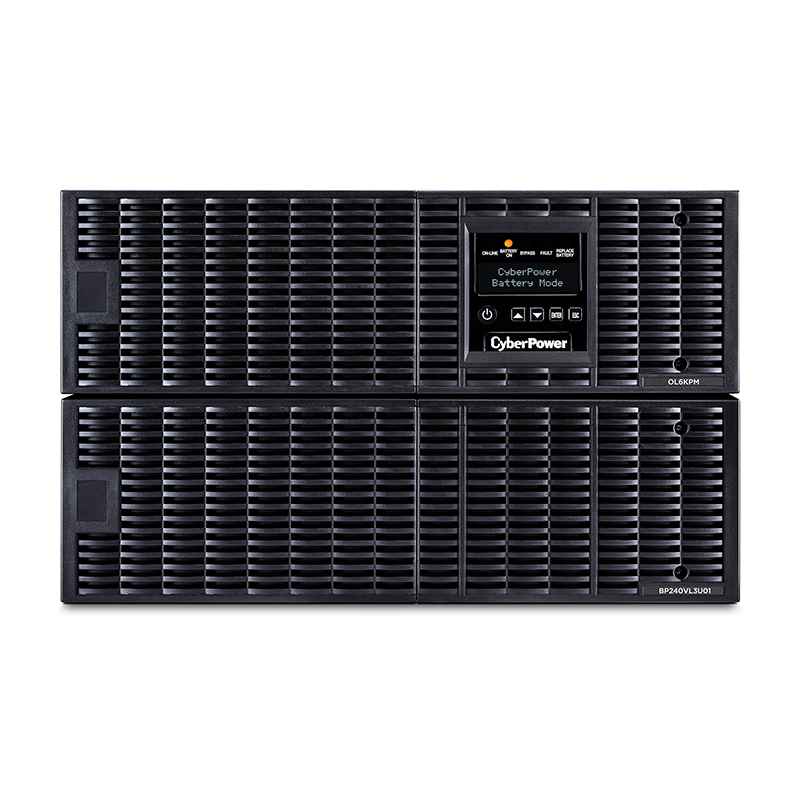 CyberPower OL6KRT Smart App Online Series UPS System
Use coupon
techie
for a
5%
discount
Model:
OL6KRT
Condition:
New
Availability:
In Stock
Download PDF datasheet for detailed product information
The CyberPower Smart App Online OL6KRT rack/tower uninterruptible power supply (UPS) with LCD control panel and sine wave output safeguards multiple types of critical IT infrastructure requiring seamless power protection.
Its double conversion topology is generator compatible and delivers consistent and clean AC power with zero transfer time, protecting connected equipment and preventing costly business interruptions.
The OL6KRT features a removable LCD control panel to reposition it to a more convenient location (with optional DB-26 cable). Smart Battery Management charging technology increases battery life by up to 50%. Fast Charge Technology helps replenish battery charge from 0-90% in 4 hours regardless of the number of Extended Battery Modules (EBM) connected. The energy-saving GreenPower UPS ECO Mode allows the UPS to reach up to 96% efficiency to reduce power consumption and thermal dissipation.
This UPS can use the BP240V30ART3U or BP240VL3U01 Extended Battery Module for more runtime. A Three-Year Warranty ensures this UPS has passed our highest quality standards in design, assembly, material or workmanship and further protection is offered by a $300,000 Connected Equipment Guarantee.
TYPICAL APPLICATIONS
Server Rooms
Server Virtualization Infrastructures (VMware, Hyper-V, Citrix)
Hyperconverged Infrastructure (HCI)
Core Network Equipment
Storage Systems
VoIP Infrastructure
FEATURES
6,000 V/5,400 W
Double Conversion Topology
Sine Wave Output, Zero Transfer Time
Output: 200-240 V
GreenPower UPS ECO Mode
Removable LCD Control Panel
Generator Mode